January 21, 2023 Community Meeting Recap
On Saturday, January 21, 2023, we held our first community meeting of the year with a record 64 attendees!
If you missed the meeting, don't worry – you can watch the recording below or download the slides. In the recap below, times are included in square brackets, so that you can quickly fast forward to a particular topic. For example, the announcement of our 2022 Annual Report begins at the [2:35] mark
The first order of business was to announce our 2022 Annual Report [2:35]. We're proud of what we achieved in 2022 and hope you'll check it out.
Next, we introduced our new Grants Advisory Committee (GAC) and Technical Advisory Committee (TAC) members [3:10]. We have seven new GAC members and four new TAC members. For more information on these new members, please see our blog post, "ARDC Welcomes New GAC and TAC Members."
After the introductions, Rosy thanked the volunteers that were leaving us [5:10]. This included board member, Bob McGwier, N4HY, who not only served on the board, but also the GAC. Finally, we observed a moment of silence for Brian Kantor, WB6CYT, our founding director, who would have turned 70 on January 19.
Grants Update [7:00]
Chelsea, KF0FVJ, then reported on our 2022 grants. To make a long story short, we made 101 grants in 2022, distributed $8 million, and impacted nearly 15,000 people. As shown below, 28.5% of the grant money went to 14 research and development projects, 27.6% to 32 education projects, 25.4% to 47 traditional amateur radio projects, and 18.5% to 8 scholarship programs. Chelsea also reported that we've extended our international reach [9:00], with 13% of our grant dollars going to projects and programs outside of the U.S.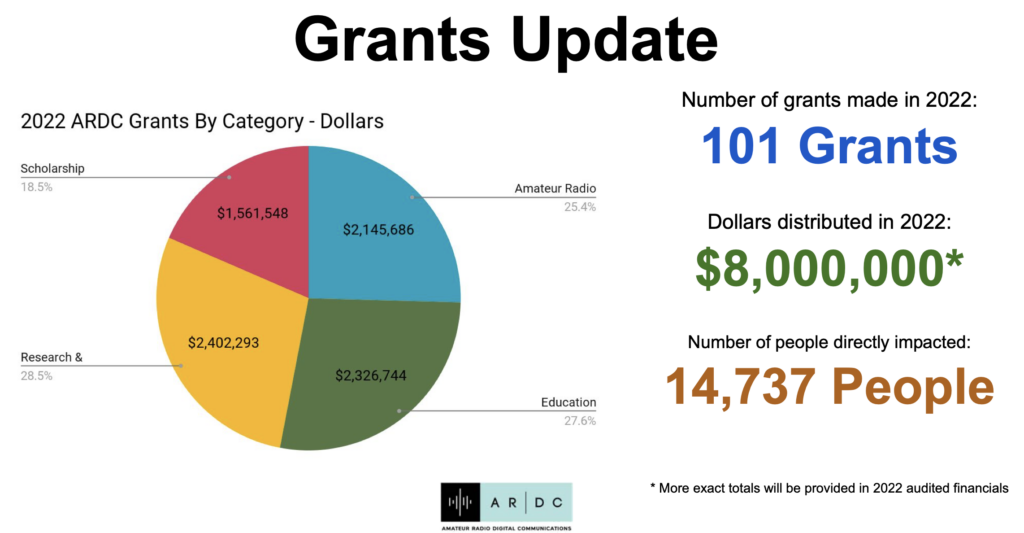 Chelsea then described some of the grants in each of the categories [10:00]. Check out the video for more information on these projects..
The next portion of the presentation dealt with how we're trying to improve our grants process [15:50]. The first step  was to conduct an anonymous survey asking applicants and grantees about their experiences. We had two key takeaways from this survey. First, we need to be clearer on how long it will take a grantee to get the funds once an application has been approved – a process that used to take a few weeks to a couple months now takes 3-6 months.  We also  need to respond faster to questions and status update requests. We will be making that a priority in 2023.
44Net Assessment [34:30]
Rosy then handed the (virtual) mic to Matt Peterson of Two P, the consultancy that conducted the ARDC 44Net Assessment. The purpose of this assessment was to capture the current state of 44Net usage. Matt discussed the survey methodology, survey results, and notes from the focus groups. In the end, the survey was completed by over 1,500 respondents, half of whom did not haveany previous relationship with ARDC.
In addition to providing a picture of current usage, the report included some recommendations that would make 44Net easier to use and thereby increasing the number of people using this resource. These include:
•    Easier/modern connectivity (NAT44 compatible)
•    Easier/turn-key software (embedded SBC image)
•    Better documentation / training events
We encourage anyone who's interested in the details to download and read the report.
Matt's presentation was followed by a question-and-answer session [55:00]. The meeting ended at 1910 UTC.
Thanks to everyone who participated, and if you weren't able to be with us live, please watch the video and give us your feedback. Your input helps us make better decisions about grants and about the direction to take 44Net. We couldn't do what we do without you.