How-To Guide for ardc.groups.io
What is Groups.io?
Groups.io is a platform that allows for managing email lists, along with providing options for joining various groups and subgroups, thus encouraging communication and collaboration in specific topics. Upon joining a group, you can participate in email discussions and share files, keeping you current with what's going on in a given community.
General information about Groups.io can be found here:
ardc.groups.io overview
Main URL: https://ardc.groups.io (this will redirect to https://ardc.groups.io/g/main).
Within our Main group, you have the option of joining many of our subgroups. Though some groups are private (like one for the 44Net coordinators) most of them are not. All of these subgroups give you a great opportunity to meet new folks and stay up-to-date about what is going on in the part of our community that interests you the most!
Public subgroups:
How to find ardc.groups.io from ardc.net
There are two ways to link to ardc.groups.io from every page on ardc.net:
The 'Join Our Community Discussion on Groups.io' button on the sidebar
The Groups.io icon on the footer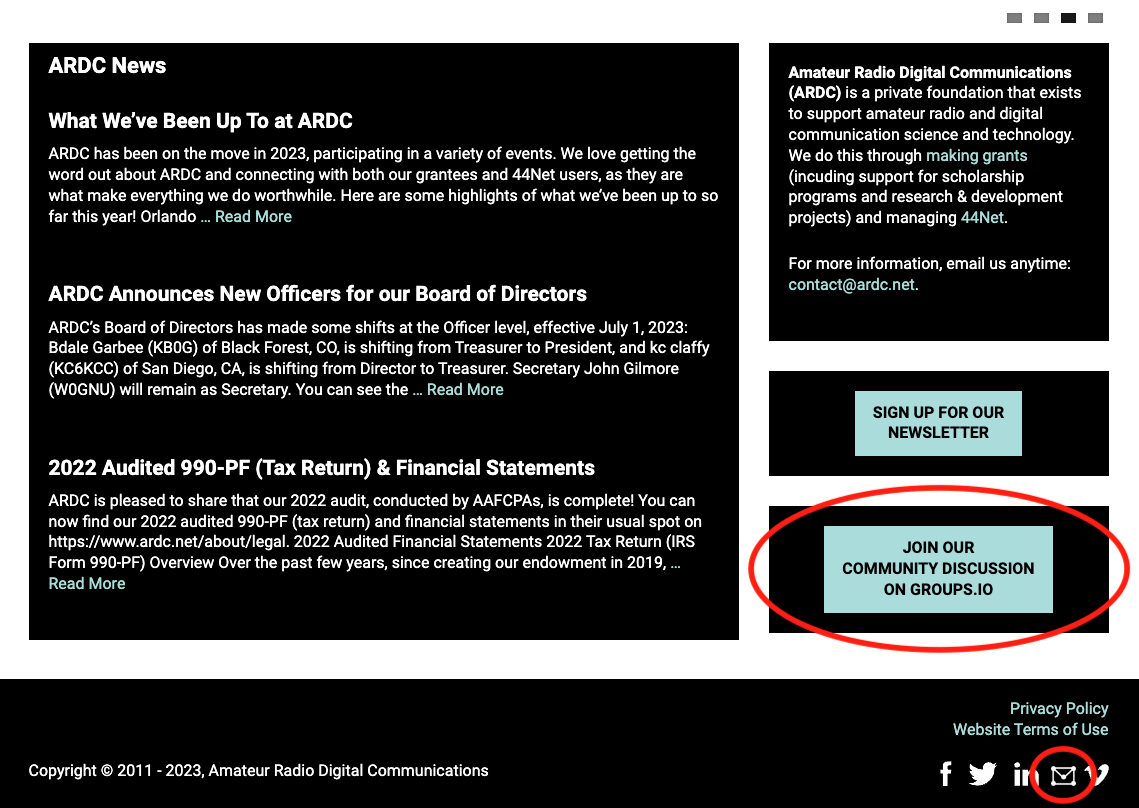 How to join ardc.groups.io
To join ARDC on Groups.io, you must first request to join the 'Main' group.
Go to Groups.io and select 'Sign Up' in the top right corner if you do not have an account. Otherwise, proceed to Step 3.

Once you're on the page that prompts you to create your account, provide your email address, select a password, and click 'Create an Account'.

Once you have an account, go to ardc.groups.io. At the bottom of the page, if you're already logged in, click the button to '+Apply for Membership in this Group' and wait for the notice saying that you've been approved!
Once you're approved, you are automatically added to the Community subgroup, and from here, you can join many of the other subgroups that are available to you. Please note that your first two posts must be approved by one of the moderators. After that, as long as you follow ARDC's Code of Conduct, you will be allowed to post without moderation.
Need more information about using ardc.groups.io? Have a suggestion for information you'd like to see on this page? Reach out any time: comms@ardc.net