CVARC Uses ARDC Grant to Serve the Community, Promote Amateur Radio
By Dan Romanchik, KB6NU
Last summer, the Chippewa Valley Amateur Radio Club (CVARC) had a problem: they had started working on a couple of club projects, including an upgrade of their repeater system and an emergency response trailer, when the pandemic hit. As a result, they had to cancel their hamfest, which they were relying on to fund these projects.
The emergency response trailer project was particularly ambitious—but definitely needed. The CVARC serves all of Chippewa County, WI, and the club estimates that up to 30% of the county has inadequate cell phone service. Should a disaster occur, large portions of the county could be without any communications at all.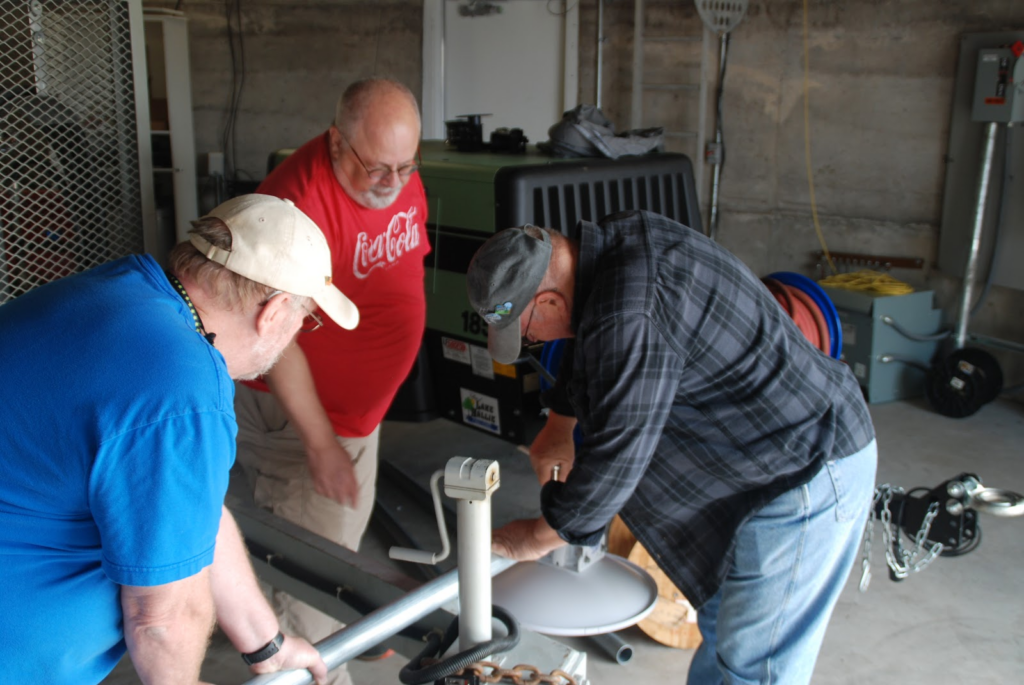 Chip Eckardt (KD9OQI, CVARC Treasurer, center) watching John Lindberg (AA9JL, CVARC President, right) mounting dish to a post at the Lake Hallie Water Tower, tallest object in the area.
As they envisioned it, the trailer would provide communications in the field when needed. To meet this objective, it was necessary to get a hold of some equipment:
7-ft. x 14-ft. tandem-axle trailer with an extended tongue for propane fuel tanks, a side window, and an RV-type side door with window.
4-6-kW, dual-fuel generator, capable of using either gasoline or propane.
Solar power system, capable of running the trailer for three days
Yaesu System Fusion 2m/70cm repeater system
Yaesu FT-991A HF/VHF/UHF transceiver
Antennas, power supplies, and other accessories.
Finding the funding
When they cancelled their hamfest, the CVARC team–including John Lindberg, AA9JL, club president; Chip Eckardt, KD9OQI, club treasurer; and Wayne Johnson, K9WKJ–regrouped. They first sent a proposal to the Federal Emergency Management Administration (FEMA), but were disappointed when FEMA was unable to provide the funding.
It was at that point that Wayne, K9WKJ, found an alternate solution. As the holder of several AMPRNet IP addresses, he's required to report periodically on how he's using them. When he visited ampr.org to do this, he discovered that ARDC was requesting proposals for amateur radio projects, such as the CVARC's communications trailer. He consulted with both John and Chip, and club voted to send their proposal to ARDC.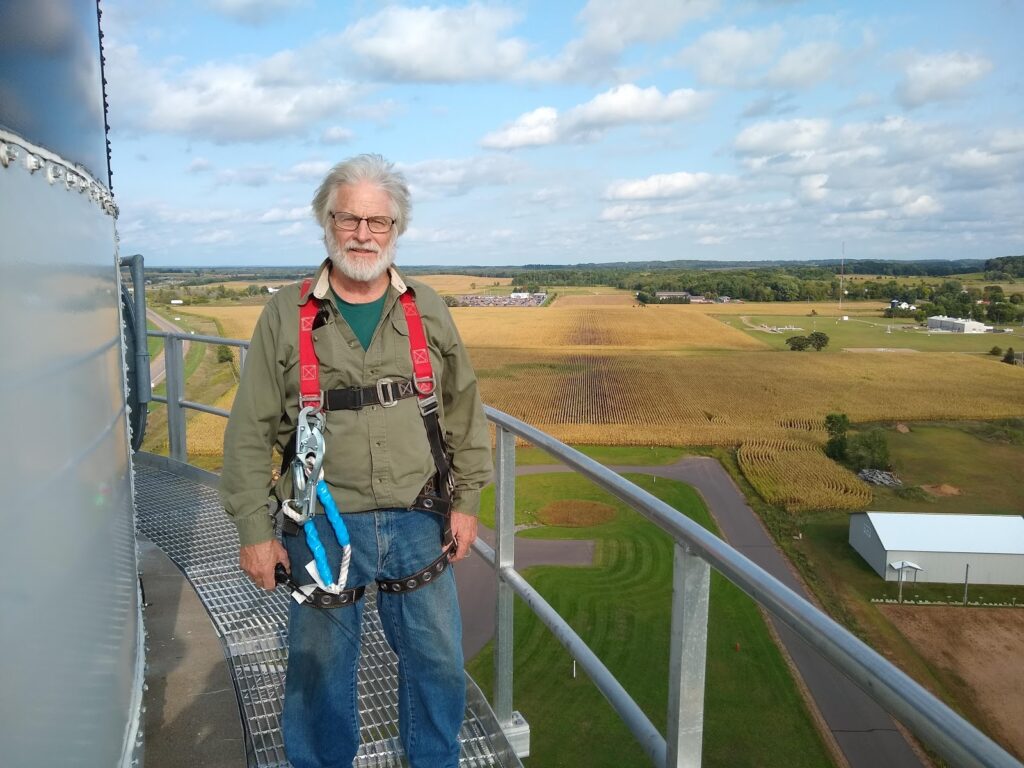 CVARC club member Gary Mohr (KD9CIT) on the top of Lake Hallie Water Tower.
They were delighted when ARDC approved their proposal (see the end of this post for an explanation of the approval process). It only took a month, and has allowed the club to get the project started. They have ordered the trailer and begun purchasing the equipment that they need to build out the trailer.
More than just equipment
The club expects to have the trailer online later this summer or in the fall, but the CVARC team stressed that this project is about more than just the equipment. This project has fostered a real sense of camaraderie in the club, and many club members have volunteered to help. According to John, AA9JL, club membership has increased, and he attributes that to the trailer project. "They see that we're really doing something useful, and want to be a part of it," he said.
It's a learning experience for the club members, too. The repeater will be a way for those who are interested in repeater technology to learn about repeaters. The HF capabilities will be a way for those who have heretofore only worked VHF to discover HF operation. And, certainly, the trailer project is helping John, Wayne, and Chip hone their project management skills.
Once complete, the trailer will serve a number of functions in addition to providing emergency communications. For example, the team expects to use the trailer to demonstrate amateur radio to schools and at public events. As such, it's going to be a vehicle (pun intended) for public relations as much as it provides emergency communications capabilities.
It's ARDC's mission to help make projects like this a reality. Chip says, "We could not have dreamed of making this happen without the grant we received from ARDC. They were the miracle we were looking for. Now, we are looking at bigger things that we can do, such as providing amateur radio service across all of Chippewa County, that we had not even considered before we discovered the ARDC grant program."
For future proposers: ARDC wants your proposal to be successful!
When ARDC receives your proposal, the first check is to ensure that your organization is eligible to receive a grant (at this time, 501(c)3 status is required!). Next, the proposal is sent to members of the Grants Advisory Committee (GAC) who examine it and make a recommendation based on their evaluation. At this point, the committee may contact you to request additional information before sending it to the Board of Directors for approval.
We want you to be successful when requesting a grant from ARDC! To have your proposal reviewed before formally submitting it, send ARDC an email: giving@ardc.net.