July 2022 Community Meeting Recap
On July 16, 2022, ARDC held its second community meeting of the year. There were just over 30 attendees. Below is a recording of the meeting and a recap. In addition to watching the video, you can download the slides. Times are included in square brackets, so that you can quickly fast forward to a particular topic. For example, discussion of staffing updates begins at the [2:00] mark.
After some housekeeping announcements, Merideth, KK7BKI, announced some staffing updates [2:00]. The first announcement is that ARDC is contracting with long-time Technology Advisory Committee volunteer Tim Požár, KC6GNJ, as a technology management consultant.
The second announcement is that we are now in the interviewing stage for the Director of Technology position. There have been many great applications, and Tim will be helping us find and hire the best candidate.
Grants Update [3:00]
Next, Chelsea, KF0FVJ, gave the group an update on our new grants process, noting that it allows us to process more proposals in less time. Chelsea also noted that the website has been updated to make applying for and tracking grants easier. We have updated the instructions page, refined our grantmaking categories and made them more concise, and added a page to inform grantees about what happens after they get a grant. Finally, she noted that grantees and others involved can give us feedback anonymously.
Chelsea then got down to facts and figures. In the first half of 2022, we awarded over $5.6 million to 61 projects. Approximately $2.5 million went to amateur radio projects, $1.9 million to education projects, and $1.2 million to R&D projects. Overall, 86 proposals were submitted and we funded 56% of those proposals. Chelsea noted that while 56% is a relatively low acceptance rate, well-thought-out proposals to eligible organizations still stand a good chance of being accepted.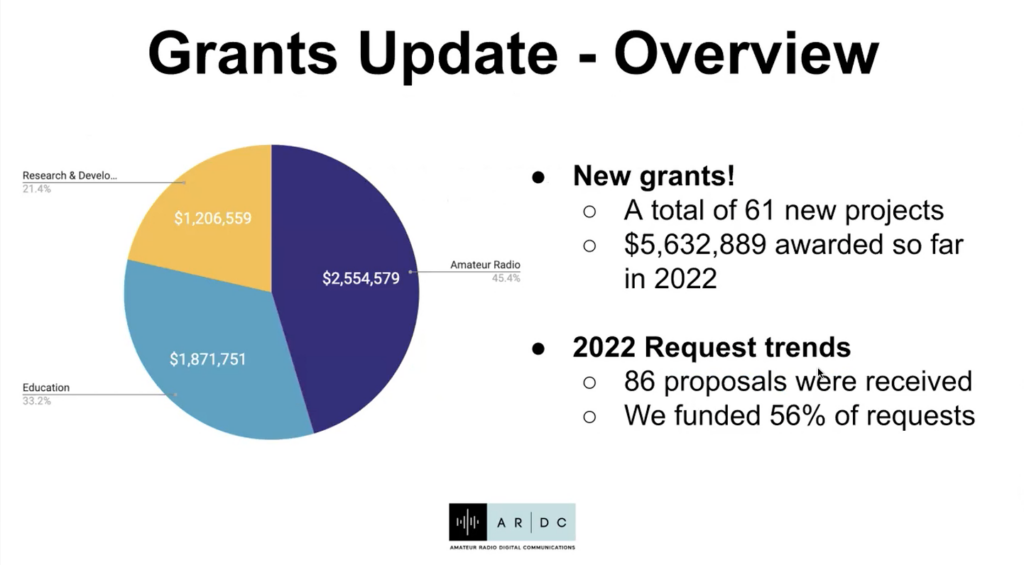 Chelsea also addressed some trends that we've noticed. In amateur radio, for example, many of the grants are for projects that aim to introduce amateur radio to new audiences and for projects that will increase capacity for established ham clubs in the U.S. She noted that while we love funding these projects, we would like to see more R&D proposals and proposals for funding international projects.
Next, we took a deeper dive into a couple of projects that we found noteworthy. The first is a grant to the Sangamon Valley Radio Club, who will use the grant to conduct Amateur Radio Direction Finding (ARDF) events for amateur radio clubs and youth groups such as 4-H, Civil Air Patrol, and Scouts. One cool feature of this project is that it is designed to be a prototype for other groups wanting to set up their own ARDF activities.
The second is a grant to the National Radio Observatory (NRAO), which operates radio telescopes around the world, including the Very Large Array in New Mexico and the Atacama Large Millimeter/submillimeter Array in Chile. The goal of this project, called Exploring the Electromagnetic Spectrum (and Why Amateur Radio Matters), is to educate emerging generations about the electromagnetic spectrum through an interactive, substantive experience with amateur radio. In particular the program will focus on broadening the excitement of amateur radio among BIPOC and LGBTQIA+ students. With this grant, the NRAO will develop a scalable curriculum to be shared nationwide and internationally.
The third is a grant to the Central Michigan Emergency Network to replace the 3.4 GHz equipment they're currently using with 10 GHz links and to expand their network across the State of Michigan. In addition to expanding the number of point-to-multiple-points (PtMP) access points, they are going to provide 18 local clubs with client radios. The clubs will loan those radios to their members to help promote the use of the technology. When the project is complete, the network will connect 59 different sites over 610 miles of point-to-point microwave links.
Chelsea finished up the discussion of grants by noting the final deadline for grant applications in 2022 is October 1 [13:20] She then noted that we will switch over to a new grants management system called Hypha. Information about this new system is available on our website, and of course, we're available to help you if you need it.
Hamfests and More Hamfests [14:40]
John, K7VE, then gave a report on the hamfests and conferences that we attended in the first half of the year, including:
Our schedule doesn't let up in the second half of 2022. We'll have a presence at the following hamfests and conferences:
As John noted, we look forward to attending these events and meeting with you all. Please get in touch with us if you'd like to meet us in person at one of these events by emailing contact@ardc.net.
44Net Update [18:00]
The rest of the meeting was taken up by a discussion of 44Net. First, Tim Požár, KC6GNJ, discussed the upgrades being planned for the 44Net portal. With a lot of input from the members of the Technical Advisory Committee (TAC), the requirements document is nearing completion.
The meeting was then handed over to Matt Peterson, K6MPP, one of the principals of the consulting firm TwoP, who has been conducting our 44Net assessment [20:00]. The first step in this assessment was to conduct a survey of current users and potential users. Matt noted that there were more than 1,700 responses to the survey, which gives us a lot of data to work with.
Matt gave a high level overview of some of the survey findings, including requests for better documentation and for easier points of entry. The next step in the assessment will be to conduct a number of focus groups. Once the focus groups have been held, TwoP will publish a full report, and with that data, we will begin looking at ways to make 44Net more useful and usable.
At this point [39:00], Rosy asked the participants several questions, including "What actions or support are critical to making 44Net more accessible?" and "What are examples of cool use cases of 44Net?" As you can imagine, these questions generated quite a bit of discussion among the participants.
Thanks to everyone who participated, and if you weren't able to be with us live, please watch the video and give us your feedback. Your input helps us make better decisions about grants and about the direction to take 44Net. We couldn't do what we do without you.