Ever since ARDC started making grants, our grantees have shown interest in finding ways to connect with one another. This interest was confirmed at our first ever online Grantee Gathering back in April of this year when 80 – yes 80! – of our grantees showed up.
Meanwhile, we'd been learning from some surveys that many folks in our community use Groups.io and LOVE IT. We've been playing with the forum service since Sept. 2021, and after the meeting back in April, more than half of the participants joined. Since then, ardc.groups.io has built up to over 500 members – and counting!
If you're part of the ARDC community – a grantee, a 44Net member, a volunteer – we invite you to join our discussions!
Getting started
The first place you'll want to go is https://ardc.groups.io, which will take you to our Main group. Once your account is approved (usually <1 business day), you'll be able to post and join our subgroups:
For more information on how to join ardc.groups.io, check out the ardc.groups.io guide here.
And if you're looking for links on ardc.net, you can find them in two places:
The 'Join Our Community Discussion on Groups.io' button on the sidebar
The Groups.io icon on the footer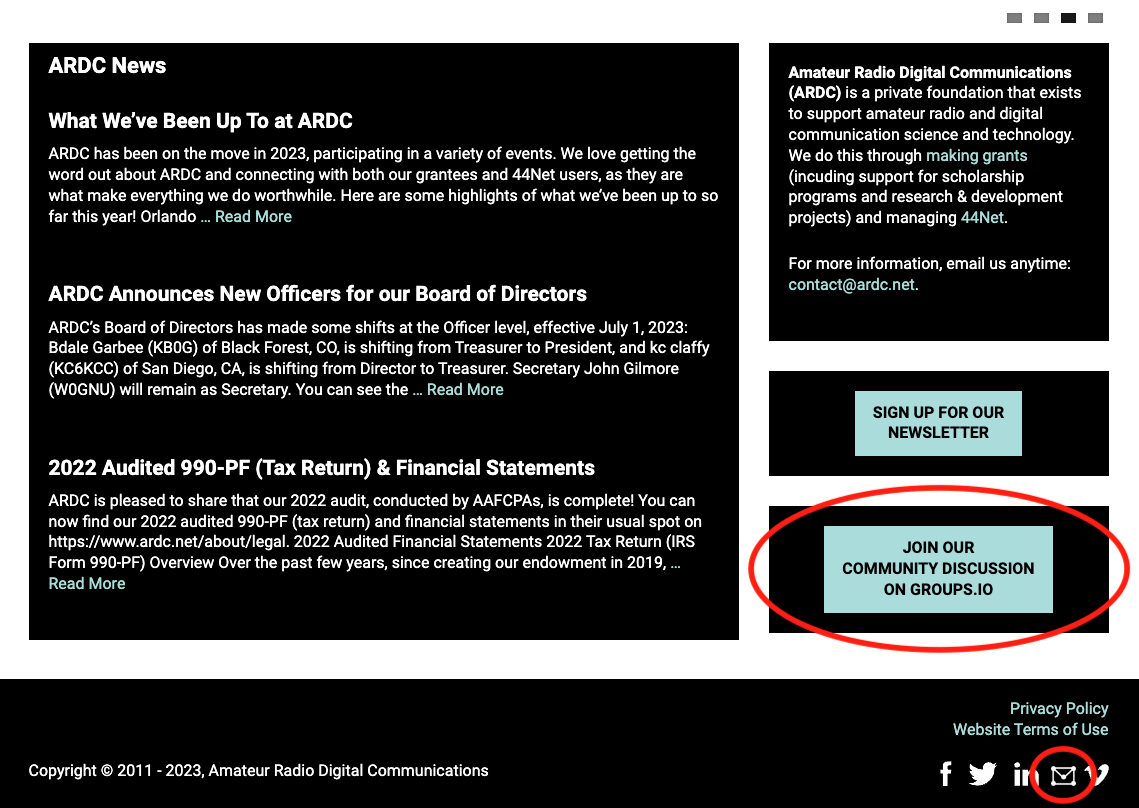 What about mailman.ardc.net and 44Net-related topics?
If you've been using the 44Net mailing list on Mailman, you may be wondering what this means for that list. As the 44Net community knows, this well-established email list has served us for many years. This summer, we put out a survey asking if members wanted to move. To be honest, we received mixed reviews: about half of our subscribers were all for a move to Groups.io, and the other half was split between being not interested or needing more information.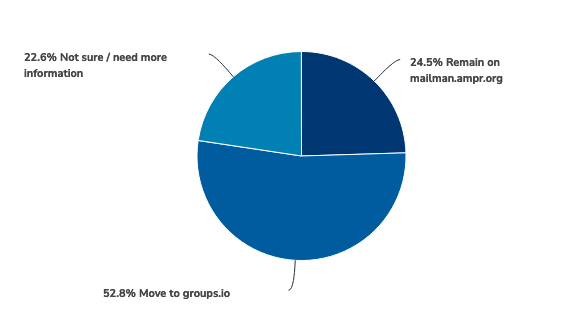 So for now, the Mailman mailing list is here to stay. We hope that 44Net members will try out some of our subgroups – 44Net VPN subgroup or the newly formed Wiki subgroup to see how it works.
We hope this information has been helpful, and we look forward to seeing you on ardc.groups.io. If you have any questions, reach out any time – comms@ardc.net. Or of course, feel free to ask your question on the forum. That's what it's there for.