Fine Time Online at the QSO Today Virtual Ham Expo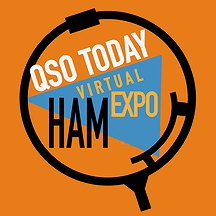 On Saturday, August 14, 2021, and Sunday, August 15, 2021, ARDC participated in this summer's QSO Today Virtual Ham Expo. Despite the modest attendance, we were able to connect with several people – many of whom ARDC may be able to help.
The Expo attempted a virtual event back in March, but it had an issue: the conferencing software did not work as smoothly as expected. This time, however, once the Expo got started, most of the kinks seemed to have been worked out. 
Like past Expos, there was a strong lineup of speakers: 91 presentations overall on topics ranging from antennas to satellites to RFI exposure regulations. The videos of these presentations are currently online for registered attendees, and will be available to the public after September 13, 2021. 
Eric Guth, 4Z1UG, reports that there were 5600 registered attendees, and that 3600 were actually in the Expo at some point during the event. The average number of attendees participating at any given time was about 800. The ARDC booth was visited 3,524 times by 1,108 unique visitors. 232 visitors watched our video, 72 entered the lounge at some point, and there were 79 total clicks on our links.
While many lounge visitors were simply interested in more information about ARDC, we did talk to several people who were all working on interesting projects. One newly-licensed ham, for example, wants to start an amateur radio club and CERT team in Syracuse, NY. Another currently maintains an astronomy website for educators and would like to expand into radio astronomy. 
Overall, we had a very good experience at this summer's QSO Today Virtual Ham Expo. It was exciting to talk to folks about their projects and how we might be able to help them. If you didn't get to visit our booth, please watch our introductory video or contact us directly. Let us know how an ARDC grant might be able to help you.